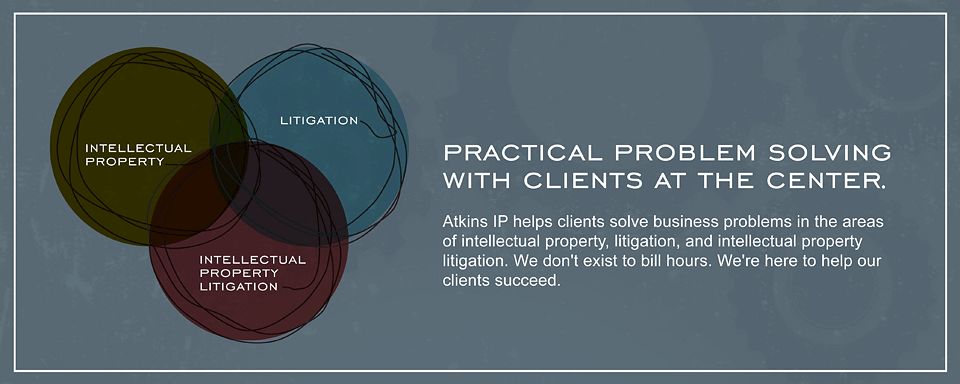 INTELLECTUAL PROPERTY
Atkins Intellectual Property helps clients with issues involving intellectual property law. Expanding one's rights, exploiting them, protecting them from infringement, and avoiding disputes are at the heart of what we do. This includes:
Trademark registrations
Trademark searches
Copyright registrations
License agreements
Ownership agreements
Coexistence agreements
Noncompetition agreements
Nondisclosure agreements
We measure our success by the value we provide. We also know that predictability is important. For that reason, we offer certain intellectual property services at competitive fixed rates. Fixed rate or not, we're pretty good communicators, so you'll always know what we're doing, why we're doing it, and how much it's going to cost.
LITIGATION
We're competitive and are driven to win. Litigation is all about planning, and (in our humble opinion) we're good at it. We work with clients to maximize their position and minimize surprises. Litigation can be disruptive and expensive, but sometimes it's necessary. When that's the case, we're with you in the trenches. Sample claims we often prosecute or defend against include:
Breach of contract
Breach of warranty
Tortious interference with a business expectancy
Violation of Consumer Protection/Unfair Business Practices Act
Violation of Computer Fraud and Abuse Act
Our experience runs the lifespan of a lawsuit, from investigating the facts and drafting or answering the complaint, through depositions, motions, trial, and appeal — in state and federal court, as well as in arbitration. When you need us, we're here.
INTELLECTUAL PROPERTY LITIGATION
The intersection of intellectual property and litigation is our sweet spot. We continually represent clients in disputes involving allegations of:
Trademark infringement
Trade name infringement
Trade dress infringement
Copyright infringement
Trade secret misappropriation
Cybersquatting
Counterfeiting
Keyword advertising
False advertising
We also represent clients before the U.S. Trademark Trial and Appeal Board (TTAB).
Atkins IP stays on top of the local trademark litigation scene in part through its blog, Seattle Trademark Lawyer.